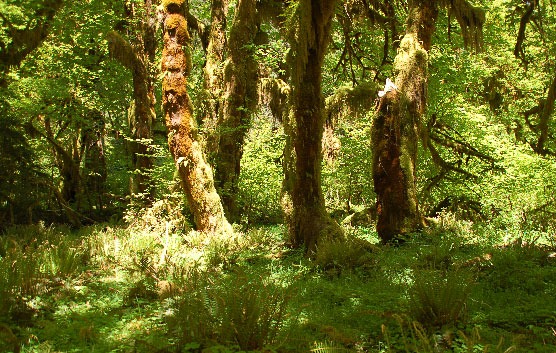 Beautiful mossy trees at Hoh National Rainforest in Washington State.
Catching up on some of my old travel photos, finally!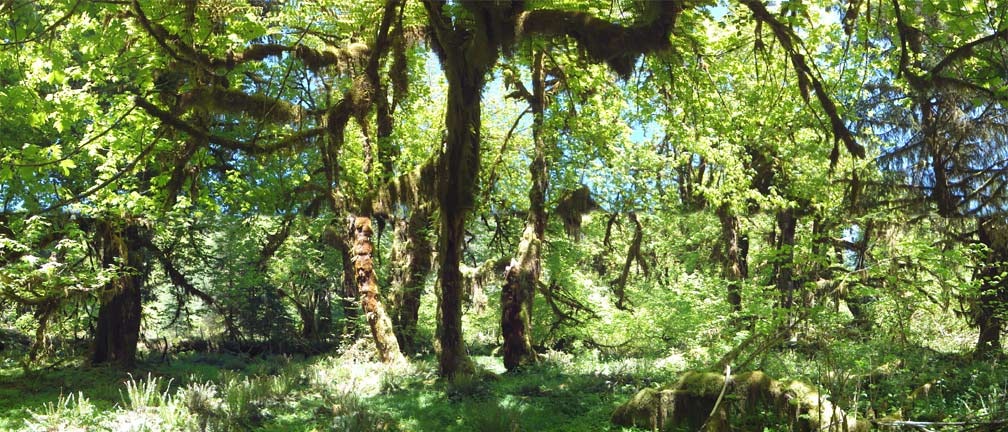 (
Read more!
Collapse
)

2012 was a year of change, as I had hoped/planned/dreaded/wished it would be. The journey we've been continuing on progressed, rolling along and taking me with it.

A few highlights of the year:
-I turned 30. Not sure how and when this happened, I don't feel '30'. I wonder if I ever will! It feels like I blinked and 10 years went by.
-I visited Paris. This was a lifelong dream of mine and was an amazing journey, even if some of the best part of Paris was getting out of it to see birds nearby. ;)
-Mbala and I became beekeepers. I had no idea how much I would love this and how many opportunities and how much awesome these little insects would bring into my life. I'm happy every time I see them and I love working with them!
-We also started doing Karate and Kabudo, along with Aikido - putting our martial arts practice up to 5 days a week, about 10 hours. We're making very slow but steady progress and it's a lot of fun. :)
-Had some really great company, fun travels, and reminders of just how absolutely awesome my friends are!
-Had the chance to meet one of the world's top tibetan mastiff people and her pack - AMAZING woman and dogs. We hope to get a puppy from her in a few years (and deal with bringing a dog in from Europe, which should be an interesting process!)
-Continued the path of ruthless organization and shedding - selling quite a lot of the things I had planned to and working on getting even more out. Every single thing in our house that is not either art, a book, or a very small number of other things is OUT or its days are numbered. This massive decluttering has freed up a lot of mental and physical space in my life.
-Brought my total weight loss down over 80 pounds. I love the primal lifestyle and still feel like I won the lottery.
-Been working a lot on remodeling/fixing up the house with the idea we'll hopefully be able to build out at the farm and move within about two years. The new wood laminate floor is making such a huge difference in how nice it is to live here in the meanwhile. :)

There have been some difficulties, centering around being rear-ended and some medical issues, but I won't harp on any of that. Overall it was a really good year for me.

I know there are so many things I should write about, but I'll leave it at that. I look forward to 2013! I hope the new year brings good things to everyone!
I kept meaning to write up a bit 2012 wrap-up post, but I didn't get around to it, and the times I did sit down to think about it, like now, the details of the year flit in and out of my head like wisps of smoke - usually replaced by small dancing owls in hats.
You can find us by clicking on this link and searching for Foxloft -
https://www.missionsmallbusiness.com/
If we get 250 votes we will be in the running for a $250,000 to make our farm project happen! If you like our idea, please vote for us!! f you'd like more information on our farm project we've got some up here:
http://foxloft.com/farm
Again - this doesn't cost anything at all or sign you up for any spam or offer. It's a small business boost offered by Chase! It seems like a bit of a pipe dream but it never hurts to try
Thanks so much for looking :)
Please, please check this out and vote for us if you like our farm/business - it's completely free to do so! Only 4 days left to vote (we got in on it last minute).
Current Mood:

busy

A new update on our apiary progress: video of 'installing' the package of bees in their new home. So far they are doing great - will be updating again soon with photos and more information! :)
Current Mood:

busy


Thanks to all of our generous and awesome donors from our Kickstarter campaign, we now have bees! We have successfully set up our first apiary and have been photo documenting the process of getting, installing, and checking on our new bees. :)

It's been absolutely amazing so far - despite the fact our bee suits didn't arrive on time and we did our first colony installations and checks without any protection - it was a bit intense, since I've never had my face in a swarm of bees before, but they were surprisingly gentle and uninterested in me - way too much change and things going on for them to care, I think.

Thank you again to everyone who has made this happen for us! We will also be housing native bumblebees as well as blue orchard bees/mason bees and other species and will be updating with lots of info about those soon! I will probably truncate journals into multiple videos/photos behind a cut so as not to spam everyone with too many bees. :)

Also... I need a bee icon now. :)
Current Mood:

happy

Current Music:

Cream: Yoko Kanno

Bees and Trees Project!

There are only 3 days left on our Bees and Trees campaign - we are close to our goal of restoring an entire acre of native prairie this year but we need your help!
Swarm of bee pendants, ready to go to their new homes to kind donators - three days left to help cover us in bees and trees! Please check it out :
http://www.kickstarter.com/projects/1729864809/bees-and-trees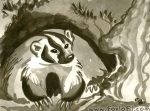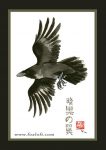 Ink painting examples - another sponsor gift!
Thank you so much for your time, and to all of you who have shown your generous support for our project! It's really making an amazing difference in what we're able to do on the farm this year. :)
Current Mood:

grateful

Working from home, with my office in the same room as the birds (and also a large open space which encompasses our kitchen and living room), they are constantly watching and scrutinizing what I do. One of the more amusing things is the relationship that has developed between all the birds, myself, and food.
The birds are hyperaware of the food in the house and what different items look like, what sort of packages they come in (if any), and where they are. What this means is that if I eat something, everyone demands a bit of it and by the time I'm done dispersing tidbits to my macaw, african grey, crows, and cockatoo - I sometimes don't have anything left for myself. On occasion I eat things they can't have, which means much anger ensues at me. Subconsciously, this has actually tailored my diet towards things I can share - I feel bad with all those hungry, angry eyes staring balefully at me while I indulge. It's become sadly common for me to hide in the closet when I eat something I don't feel like sharing but could - the birds are giving me an eating disorder of food hiding. ;)
So to my story of the day - the pickle wars. I bought a jar of pickles and was eating one - most of the birds know pickles and don't like them, so this is an ignore-food. However, my cockatoo, Jo, was demanding a piece. I gave her a tiny chunk, figuring that she'd taste it was sour, drop it, and I'd be free to eat pickles in peace. No suck luck. Jo decided she LOVES pickles. More than anything. As soon as she sees the jar leave the fridge she's knocking on her cage and demanding pickles immediately. They are not good for her, I'm sure - being nothing but salt and vinegar, I don't want her to have them. I have tried to sneak the pickles out of the fridge but she watches, plastered against the side of her cage with her squinty eye bearing down on me. So I've gotten to the point where I have to hide the pickle jar behind some other food item when I take it out and remove the pickle quietly and sneakily and take it into my bedroom. Today she caught me at it and had an angry screaming tantrum fit about it. Sheesh, Jo!
It's funny my shopping considerations now take into account how much hassle it will be to actually EAT the food item itself.
Living with parrots is amusing. Sometimes its like having a house full of roomates, sometimes one full of three-year-olds, sometimes it's just like living in a zoo.
Current Mood:

birds

Current Music:

Cry for You - September

Bees and Trees Project!

I know that many of you have been following our progress on the farm, and thought you might be interested - I've just launched a Kickstarter project to help us bring in bees as pollinators (honeybees and native bumblebees) as well as trees (both native and fruit-producing) which is our goal this year. You can help make it happen (and receive some great gifts and mojo in return!)
If you know of anyone who might be interested or would be willing to share this, I would greatly appreciate it! We're trying to get the word out and hoping to spend this summer being chased by bees, building bat houses and bumblebee boxes, and digging infinite holes. :)
Please feel free to point people here or to the site above - it also has great, easy buttons for sharing on twitter or facebook.
And as always - thank you so much for your time and support!!
http://www.kickstarter.com/projects/1729864809/bees-and-trees
Current Mood:

busy

I think the social media explosion has taken most of my journaling time/interest away - I use LJ as a more serious blog - someplace to post larger updates and photo posts, which I don't get a lot of time to do. I know I'm (as usual) a bit backlogged on that. The social media in general (Twitter, Facebook, etc.) took me awhile to warm up to but it's turned into this strange conglomeration taking place of old-school sort of chat rooms, which I miss. It's a sort of 'be-social-online-when-you-have-a-moment' which is nice, since I'm usually scrambling around doing a whole bunch of things and don't have time to sit in one place for too long, unless there's a paintbrush in my hand.
Things on my end of the world are busy and great! A ridiculously early spring (and actually no real winter) has had Mbala and I out working on the land much earlier than expected.
Some of the things that have been keeping my time:
-Did a fantastic bird show, the IAATE (avian trainers) conference which was a blast. Bird people are my people! The first club I ever belonged to was the Minnesota companion bird association, I was a member for many years and all while I was growing up. I loved meeting everyone at the show and also had a visit from a good friend and her beau, as well as another friend from out of the country that I don't usually get to see.

-Been out hunting with birds, falconry is awesome! It will still be a few years till I can get a bird of my own but I'm learning so much.

-Aikido, 3x a week - love it! Weapons practice is especially fun, I find the movement with the sword really beautiful and captivating.

-Started sprouting a whole bunch of seeds, mostly a variety of heritage tomatoes. I've never taken tomatoes from seed to end, though I have worked with seedlings a lot when I used to work at a nursery. Set up a temporary grow room and have been thrilling over the incredible daily growth and change of the plants, ferrying them in and out each day when the weather is nice enough. Also have sweet peppers, gourds, pumpkins, celery root, brussel sprouts, cabbages, romanesco broccoli... and so much more! Looking forward to the garden and fresh veggies galore.

-Lost 70lbs and counting. I'm actually into the realm of 'normal' (i.e. healthy bmi) for the first time since I was a child, and am still dropping. It feels like I won the lottery - finally finding something that works. I've had to get rid of my entire wardrobe. Mbala has lost over 50lbs and we just got rid of his as well.

-Lots of exciting art projects going on - if you follow my online galleries you'll see these as they are coming out. Art is my 'day job' so I've been steadily producing and falling into a reasonable rhythm, love it.

-Getting ready for bees! Both Mbala and I are super excited.

-Took and passed the MN hunter education program so that we can practice shooting (both with a shotgun and a bow) and get our hunting licenses (hopefully, if we're ready!) for next winter. Deer from our land fed us most of the winter and definitely want to do that again.

-Taking pottery wheel classes at a local gallery with Mbala as an anniversary gift to each other. I haven't thrown a pot since college so I'm excited to get back into it! We've got the space at the land to eventually set up a kiln, which will be awesome.

-Mbala is getting a bunch of edible fungus plugs (shiitake, oyster, etc.) for the land to innoculate some of our downed trees with. I'm not a big mushroom fan but have been learning to appreciate them more (and make a really tasty soup from them), so that is neat! I'll also be working on inoculating a lot of the trees we'll be planting and re-establishing the mycorrhizal fungi network on the land which has been badly damaged by all the farming/chemicals on it. One more step towards our crazy hippie everything.

I know I'm forgetting a whole bunch of things - every weekend is pretty much a different adventure, work is crazy and many 12+ hour days, reading a lot, enjoying learning and all the potentials for the future at the farm - spending a stupid amount of time cooking while dancing with my birds and dogs. That's the sort of thing you end up doing when you work from home. ;)
Oy! I realized that I haven't updated here in forever, despite the fact I check LJ most days.
Current Mood:

cheerful

Current Music:

Better Together; Jack Johnson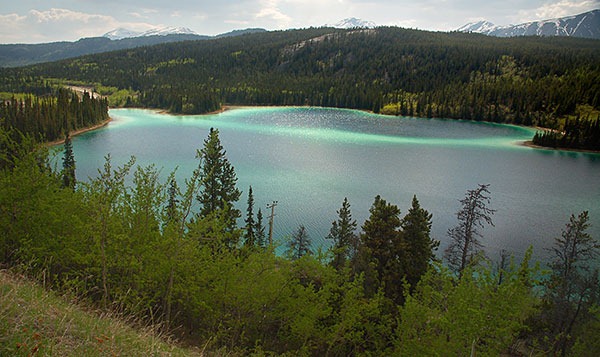 Emerald Lake, Yukon Territory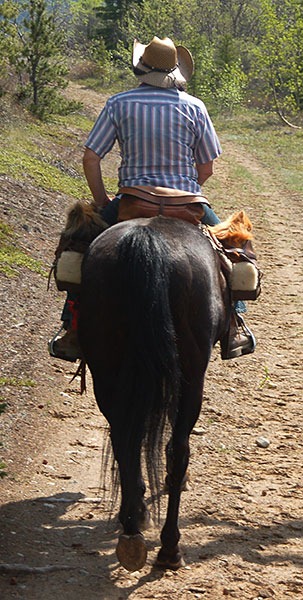 Pomeranians in saddlebags.
(
Continuing the adventure - lots of photos under the cut!
Collapse
)
Current Mood:

busy